Donate
KittyKind is a not-for-profit, all-volunteer group. Although we are a registered charity, we receive no public funding. The cats must depend on the kindness and generosity of people like you, who support our efforts to save their precious lives.
While there is always a shortage of money, there is never a shortage of lives to be saved. The donation requested at the time of adoption covers only a small portion of the expenses involved in the rescue and healing of the cats in our care.
Every penny we receive in donations goes directly to the care of the cats. Love is not enough – only with your help can we continue to save them, so please click the "Donate" button to the left, to make a contribution.
AmazonSmile
Did you know when you shop AmazonSmile, Amazon donates a portion of the purchase to a charity of your choice? You can easily set KittyKind to your be chosen charity at https://kittykind.org/smile
Ongoing care for Nino's Kidney Disease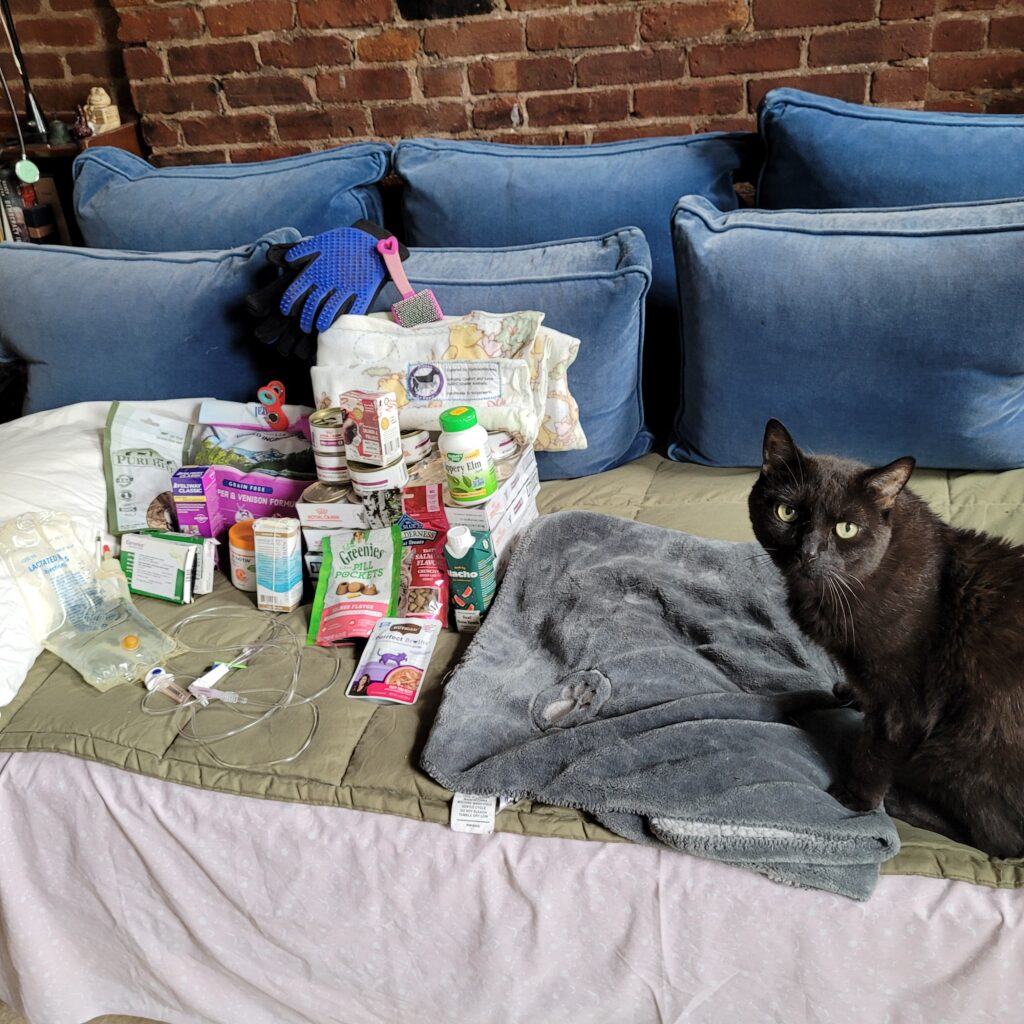 Nino is a 12 year old senior cat with health issues that KittyKind and Partnership for Shelter Animals NYC are partnering to give him the support and care he needs. Nino was an owner surrender to the ACC. He was a favorite at the facility, but after several months in the cage, Nino had noticeable hair loss and loss of body weight. PSANYC pulled Nino out of there and got him into a foster home.
Nino has been recovering really well in his foster home. He is gaining weight and growing his hair back. He fetches his mouse for his exercise and he also now plays hide and seek! His bodily functions are normal for a cat on maximum kidney disease maintenance.
Visit the GoFundMe page for more information: https://gofund.me/a8960ced
Support KittyKind with Zelle
Zelle is offered by over many popular banks and credit unions in the United States, including Chase, Bank of America, Wells Fargo and Citibank. To get started, make sure you're enrolled in your bank's mobile banking app. Go to your bank's website or call their help line to find out how to do that.
You may donate to KittyKind directly from your checking account using Zelle by mentioning our email address: [email protected]
Support KittyKind Where You Work
Ask your employer about matching your donation. Also ask your employer about payroll deductions. Even a $5.00 donation per month can make a difference.
Remembering Friends and Family
A gift to KittyKind is a meaningful way to honor the memory of a loved one or commemorate a birthday or special occasion. KittyKind will send an acknowledgment card to a person you designate if you'd like.
Plan Ahead
Consider a bequest to KittyKind in your will. All donations are tax-deductible.